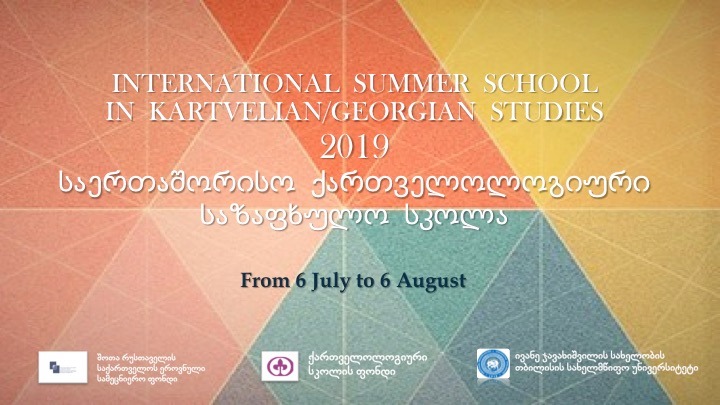 International Summer School in Kartvelian/Georgian Studies is an educational-scholarly project which has been held since 1995 under the leadership of the Professor Elguja Khintibidze and aims at increasing the interest of foreign students in the field of Kartvelian/Georgian Studies, providing necessary environment for studying modern Georgian language and expanding their knowledge in various fields of Georgian Studies, Georgian culture, modern scholarly, educational, cultural and social achievements. The project integrates Georgian and foreign students and supports to expand their interest in the direction of Georgian culture and Scholarly achievements as well.
The 25-year experience of school performance demonstrates its unwavering popularity among educational circles.
"International Summer School for Kartvelian Studies – 2019" operated for 5 weeks on the basis of theCenter for Kartvelian Studies in Tbilisi State University (July 7 - August 7).
The project was presented and co-funded by the Fund for Kartvelian Studies with financial support of Shota Rustaveli National Science Foundation of Georgia, Ivane Javakhishvili Tbilisi State University and the Fund for Kartvelian Studies itself. The program is multifunctional and includes various activities such as: everyday training sessions in Georgian language (4 academic hours) provided by two teachers with different methodological approaches; Daily individual trainings with assistants of the teachers (1 academic hour); Everyday lectures given by famous lecturers of various fields of Kartvelian Studies; Cultural programs such as visiting museums, galleries, exhibition halls and expeditions in various regions of Georgia.
During the last 3 years, Georgian students have been involved in the program along with foreigners. This innovative step has proved important in terms of providing integration between TSU students and international educational centers as well as young foreign scholars. The prospective outcome ofThe International Summer School in Kartvelian/Georgian Studies will reflect itself in the progress of the Georgian culture and science. It is important since it promotes Georgian national science - Kartvelology abroad as well as promotes the integration of Georgian students with foreign scholarly circles interested in the field of Georgian Studies.
The aim of the given project is to promote the field and attract youngsters interested in Kartvelian/Georgian Studies. Apart from attracting Georgian and foreign lecturers and encouraging cooperative participation of students in the program, which will enhance the exchange of information, the project intends to develop students' scholarly skills, advance their knowledge, introduce students to recent scientific research and adapt them to high-rank scholarly circles. All this will promote cooperation and create the necessary background for further scientific activities.
Thus, the aim of The International Summer School is not limited to the development of the scientific skills of future scholars, enhancement of their knowledge and creation of the background necessary for their future success. The long-term goal of the project is to direct the interest of young scholars towards Kartvelian Studies. This will be an intellectual investment of nation-wide significance.